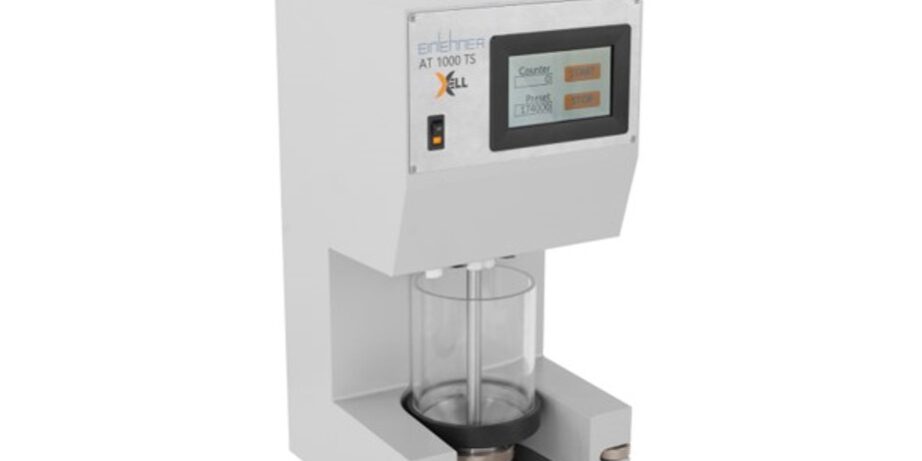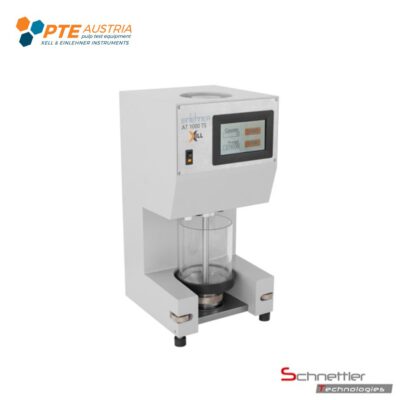 Abrasion Tester Einlehner AT 1000
Manufacturer: PTE-Pulp Test Equipment GmbH
(formerly manufactured and sold by Xell GmbH)
Usage:
The tester checks for abrasion by platelet-shaped fillers and pigments as described e.g. occur in kaolin clay suspensions.
Device Description
The AT 1000 abrasion tester used worldwide is suitable for the comparison and quality control of platelet-shaped fillers and pigments. The AT 1000 is only of limited suitability for testing and comparing fillers and pigments with a rhombometric structure (see Einlehner® AT 2000 on page 104).
The device provides information about the wear behavior of paper machine screens, cutting and punching tools as well as doctor blades and blades when using these fillers and pigments. The complete device comes with a specially designed acrylic glass cylinder and a quick release clamp unit for the metal plates and the bronze sieves.
It contains a specially designed holder for discs with PVC rings for abrasion tests in suspensions of kaolin clay. The two displays show the default settings and the number of actual revolutions. The speed of the abrasion stirrer is controlled electronically. The device is supplied with a starter set of 500 bronze mesh sieves, 25 stainless steel plates and 200 PVC abrasion rings.
In the current version of the original Einlehner AT 1000, all experience from many years of use has been incorporated. Some of the major improvements are:
The rotating body runs independently of the mains frequency (50/60 Hz) uniformly at 1800 rpm. This results in the following values:
| | | | | | |
| --- | --- | --- | --- | --- | --- |
| Default | 1 | 2 | 3 | 4 | 5 |
| Rotations × 103 | 7,25 | 21,75 | 43,5 | 87 | 174 |
| Length [min] | 4 | 12 | 24 | 48 | 96 |
With the new electronics, any other number of revolutions can be preselected (maximum 999,990 revolutions).
The stirring rod is thinner in the lower area, in which it is immersed in the suspension, than in the upper area. This means that the top guide can no longer be contaminated when the stirrer is pulled out.
Description
The standard method for testing the abrasion properties of platelet-shaped fillers and pigments with the AT 1000 is described in Zellcheming leaflet V / 27.5 / 75. A standard test sieve (phosphor bronze sieve) is rubbed off in an aqueous suspension of the filler or pigment to be tested by the sliding friction stress of a standard rotating body (base body with PVC coverings) loaded in a defined manner. The loss of material that occurs on the standard test sieve after a certain number of revolutions of this standard rotating body is determined as a weight loss by weighing back. This weight loss [mg] is used as a comparison value for the wear effect of the filler or pigment tested.
Specifications
•  Top quality in material and manufacture

•   A system that has been mature for a long time

mass and weight
Netto
Brutto
B × T × H [mm]
250 × 250 × 512
400 × 400 × 600
Weight [kg]
29
45
Special accessories
•   Not included with the device but can be reordered: Testpackage AT 1000,

consisting of 500 standard test sieves, 200 PVC covers and 25 wear plates. This material is sufficient for 500 wear tests.

•   Special holder for discs with PVC rings for abrasion tests in kaolin suspensions

•   Standard pigment for reference

Electricity:
220 – 240 V, 1-phase, 50/60 Hz or 220 – 240 V, 1-phas, 50/60 Hz (other values ​​on customer request)
Scope of delivery
Device AT 1000 compl. with power cord
1 Test cylinder
1 Carrier claw with test core and PVC covers as well
1 Mixing cylinder (300 ml) with impeller.
Test accessories consisting of 500 standard test seven, 200 PVC covers and 25 wear plates. This material is sufficient for 500 abrasion tests according to the standard test method (see above).
You have any questions towards this product?
Then call us, write us an email or you can use our callback-Service-formular at the footer of the page. We are looking forward to hear from you and we will give a good consultation.