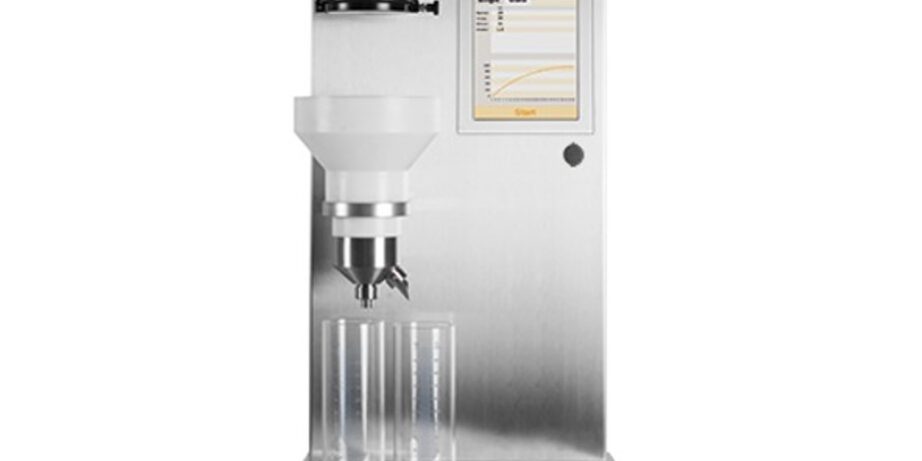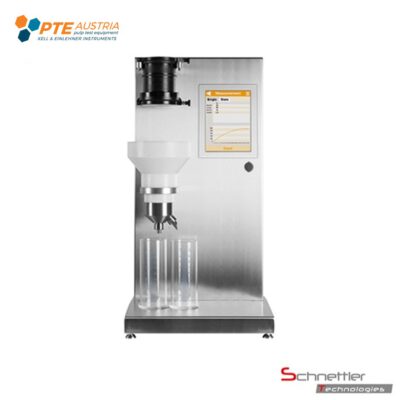 Canadian Freeness Tester digital model
Manufacturer: PTE-Pulp Test Equipment GmbH
(formerly manufactured and sold by Xell GmbH)
Overview:
For measuring the freeness of pulp acc. Canadian Standard yet fully digital feat. LabUI.
.
Device Description
The XELL Canadian Standard Freeness Tester consists of a sturdy frame with built in balance and 10″ touch screen. Mounted on this frame is the 1.000 ml cylinder with a special screen plate. Also mounted on the frame is a funnel, which guides the water from the upper cylinder into a beaker, which is permanently weighed. If water splashes out of the cylinder into the funnel and the beaker, the beaker gives the actual current weight in real time. A curve of the increase in weight is determined and shown on the touch screen.
Test Description »digital«
The sample is prepared acc. the standard and the suspension is filled into the upper cylinder, while the bottom lid is closed. The upper lid is closed. The lower lid is opened and due to opening a magnetic valve on the upper lid, air comes into the cylinder and allows to start the drainage. The water drains through the sieve and the pulp is held back on the sieve. The drained water is measured with the built in balance and the curve is detected. The device calculates all the statistics (mean, min, max, standard deviation, etc.) and displays them on the 10″ display. The instrument stores the last 1  000 measurements which can be retrieved or transferred to a PC even after some months. From the front USB port the values can be stored to a USB-stick and converted into Excel format.
Specifications
10″ touch screen with LabUI™ (see page <?>)
Start of automatic process with a button on the touch screen
Automatic determination of the drainage curve
Stainless steel construction of the frame with built-in balance
Outputs
USB-Port on the front, where the measurement can be taken onto a USB-stick
USB-Port and Ethernet-port on the back, where the data can be transported via cable to a laboratory computer in Excel format (as standard format)
Delivery content:
Instrument
Electrical connection cable and USB cable
Two measuring cylinders
Operating manual
Connections
Electricity:        100 – 240 V, 50/60 Hz AC
Air:                  400 – 600 Pa
Weight and Dimensions
| | Net | Gross |
| --- | --- | --- |
| | Net | Gross |
| Width | 540 | 1200 |
| Depth | 410 | 800 |
| Height | 920 | 720 |
| Weight | 48 | 65 |
You have any questions towards this product?
Then call us, write us an email or you can use our callback-Service-formular at the footer of the page. We are looking forward to hear from you and we will give a good consultation.