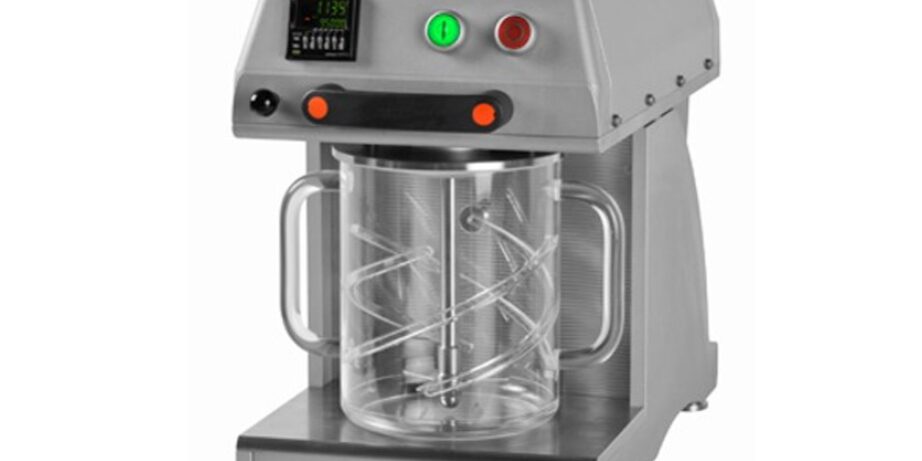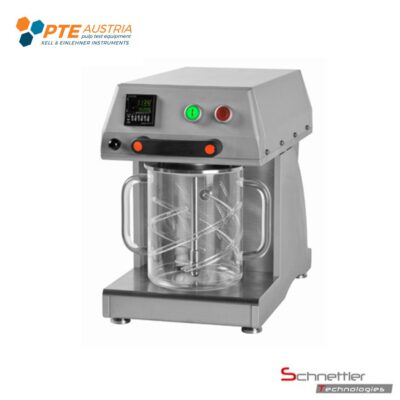 Disintegrator
Manufacturer: PTE-Pulp Test Equipment GmbH
(formerly manufactured and sold by Xell GmbH)
Usage:
For shredding pulp suspensions according to standardized conditions
Standards:
ISO 5263-1, TAPPI T 205, SCAN C18/M2, PAPTAC C.6
Device Description
This high quality product is characterized by the simplicity of operation. Only premium stainless steel and aluminum parts are being used for manufacturing this laboratory tool. The balanced hinged head allows the operator to open the device with only one hand. On the front side of the device you can find the adjustable revolution counter and the start and stop button. Via the revolution counter the exact amount of revolutions needed can be adjusted to disintegrate the pulp. Multiple safety installations have been implemented in order to prevent damage to the device and injury to person.
Test Description
The disintegration pot needs to be filled with water and the correct amount of pulp. Now the pot can be placed on the disintegrator and the balanced hinged head can be moved down until it catches. Preset the amount of rotations needed for disintegration. After pressing the start button the device will disintegrate the pulp until the full amount of revolutions selected has been accomplished and stops automatically. Now the device can be opened and the retrieved samples can be taken for further processing.
Specifications
– Highest quality materials and manufacturing
– Balanced hinged head
– Multiple safety installations
– Digital revolution counter and display
– Revolution speed according to ISO and TAPPI
– Disintegrator pot made of acrylic glass
– Disintegrator pot made of stainless steel for TMP-samples upon request
Article Number // Device
P 401.A // Disintegrator made from acryl material
P 401.S // Disintegrator made from stainless steel
P 401.H // Disintegrator made from stainless steel, heating plate included
You have any questions towards this product?
Then call us, write us an email or you can use our callback-Service-formular at the footer of the page. We are looking forward to hear from you and we will give a good consultation.