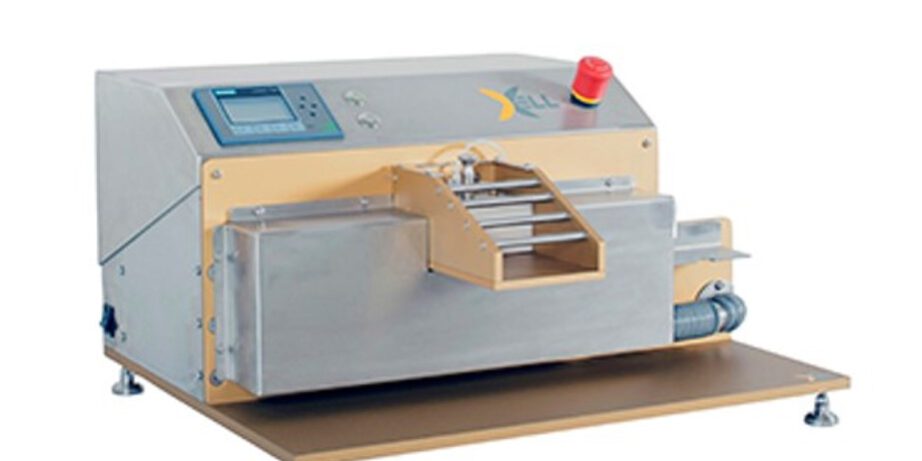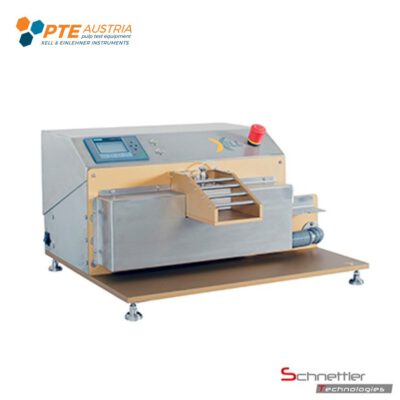 ECT Sample Saw
Manufacturer: PTE-Pulp Test Equipment GmbH
(formerly manufactured and sold by Xell GmbH)
Overview
Automatic Sample Saw for cutting card board samples
Device Description:
The ECT Sample Saw is designed for very exact cutting of samples for the ECT test with a crush tester. Research work has found-out, that the same sample of 100 mm width cut with a "Billerude" cutter gives a lower value on the crush tester. With the double blade sample saw the values on the same sample gives a higher result. All parameters are the same, but the difference is on the sample preparation (same cardboard, same crush tester, same humidity, but different sample preparation).
The sample saw has a holder for the sample (100 mm +/- 1 mm width) and this sample is hold down with an acrylic block, which is lifted so, that the sample can be put into the sample holder.
There are running 2 diamond high speed cutting blades, which are moving from right side to the left side in the instrument. They cut the sample with a maximum sample height of 22 mm. The sample falls in a sample holder and when the saw blades are back in starting position, the sample can be easily taken out from the sample holder. On the back side there is a connection for a vacuum cleaner, which sucks the saw dust away.
Test Description:
A sample stripe is put into the sample holder. The motor and also the vacuum cleaner is started by pushing a button and the sawblades are moving and cut the sample with exact 25 mm width. The sample falls in a sample holder and can be taken out after cutting. Now the sample stripe is moved into the saw for cutting the next sample. The machine is so constructed, that a change of the saw blades is very easy.
Specifications:
– High speed motor for best cutting
– Automatic sample ejection
– Counter for cuttings
– Easy to change the saw blades
– Security features
– Connection for a vacuum cleaner system
– For samples up to 22 mm thickness
– Sample width exact 25,0 mm (100 mm long)
Shipment:
– Sample saw with cable
– Spare blades (4 pcs)
– Vacuum cleaner
– Manual
Dimensions and weights:
Dimensions: 600 x 500 x 350(h) mm gross: 800 x 600 x 500(h) mm
Weight: net: 50 kg gross: 80 kg
Connections:
Electricity: 230 V / 50 Hz AC
Air: 400 – 600 kPa
You have any questions towards this product?
Then call us, write us an email or you can use our callback-Service-formular at the footer of the page. We are looking forward to hear from you and we will give a good consultation.