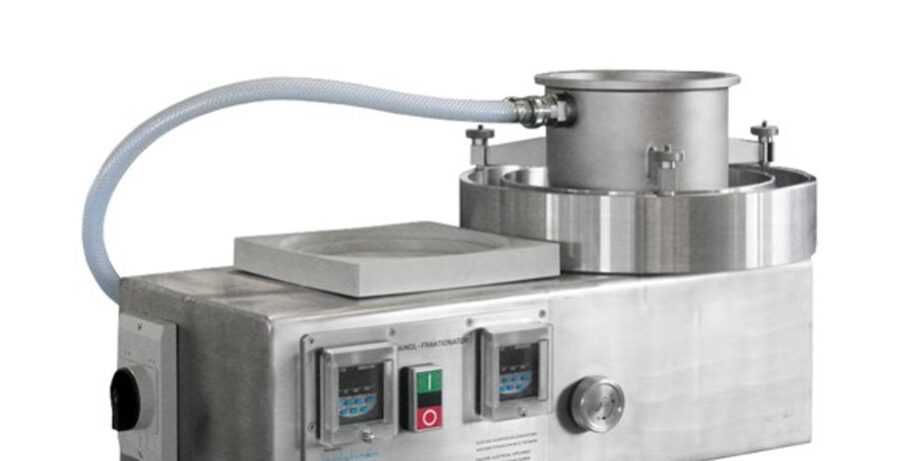 Haindl Fractionator
Manufacturer: PTE-Pulp Test Equipment GmbH
(formerly manufactured and sold by Xell GmbH)
Usage:
Device for determining splitter content and fiber fractionation.
Device Description:
The Haindl fractionator is made of corrosion-resistant materials.
The motor with the eccentric, which moves a rubber membrane up and down, is housed in the lower part of the fractionator. The speed of the motor and thus the strokes per minute can be set up to 200 strokes per minute. The pulsating membrane creates pressure and suction movements on the sieve plate attached above. The standard sieve plate has slots with a width of 0.15 mm, through which smaller fiber components are flushed, larger particles or splinters remain on the sieve plate. Water is injected over the sieve through a calibrated ring nozzle. The fractionation time is set using a timer.
Test Description:
A weighed pulp sample is added to the water in the wash tank. Water splashes onto the slotted plate through a calibrated ring nozzle. Fibers and parts smaller than the slits are sucked through the plate due to the vibrating movement of the membrane and washed away.
The splinters remain on the plate. At the end of the washing cycle, the water is drained off, the chips are washed off the slotted plate, collected, dried and weighed out. The percentage distribution of the splinters of the
the pulp used can be calculated.
Specifications:
Compact tabletop unit made of stainless steel materials with a stainless steel upper part.
Pressure regulation and water flow easy to regulate.
Double strokes of the membrane: 200 / min
Slotted sieve with 0.15 mm width of the slits
Scope of delivery:
Haindl fractionator with 2 m connection cable
Sieve plate with 0.15 mm slots
Operation manual
Option:
– Sieve plate with 0.20 mm slots
– Sieve plate with 0.10 mm slots
–        Sieve plates with DIN 50 and DIN 16 wire mesh
Connections:
–
Water connection and drain
| | | |
| --- | --- | --- |
| | Dimensions (B x T x H) | Weight |
| Netto | 570 x 350 x 300 mm |  70 kg |
| | 800 x 600 x 500 mm | 100 kg |
You have any questions towards this product?
Then call us, write us an email or you can use our callback-Service-formular at the footer of the page. We are looking forward to hear from you and we will give a good consultation.