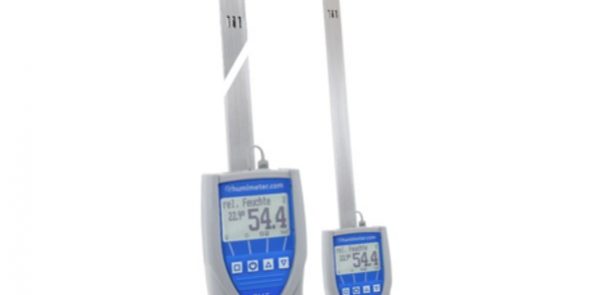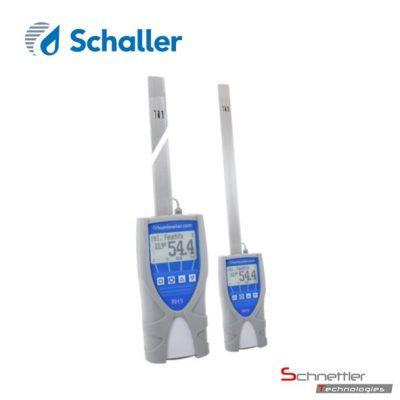 Humimeter RH5
Manufacturer: Schaller Messtechnik
Overview:
Paper moisture meter for paper piles. Also ideal for automatically monitoring the climate of printing rooms and paper stockrooms.A new and revolutionary powerful portable measuring instrument series using innovative sensor technology
Hold function, manual saving of results
Automatic datalog for up to 10,000 logs with measuring point report
Rapid adjustment
Scope of supply: humimeter, RH5 with rubber protection, cover, wooden case and batteries
Relative air humidity 0 to 100%, resolution 0.1% RH
Calibration 10 to 90% +/-1.5% RH (at 25°C)
Temperature can be set to °C or °F as required
Temperature -10 to +60°C/14 to 140°F, resolution 0.1°C
Calibration +/-0.3°C (at 25°C)
Dew point -55 to +60°C/-67 to 140°F, resolution 0.1°C
Measuring procedure:
To determine the moisture in paper piles, the sword sensor is inserted into the paper stack and left there for a short conditioning time. The large, well-lit display shows the current moisture and temperature value. Via the integrated datalogger the measuring values can be stored and additional data can be added. The Autolog function enables an automatic saving of measuring values in adjustable time intervals. To prevent a damage of the sword sensor in heavy paper stacks, a sword sensor holder and a tool for removing the sword sensor holder are available optionally. The humimeter USB data interface module offers the possibility to connect the device to a PC. Via the delivered LogMemorizer software the measuring values can be read off the device, addition information can be added, and the data can be archived, exported and processed.
You have any questions towards this product?
Then call us, write us an email or you can use our callback-Service-formular at the footer of the page. We are looking forward to hear from you and we will give a good consultation.