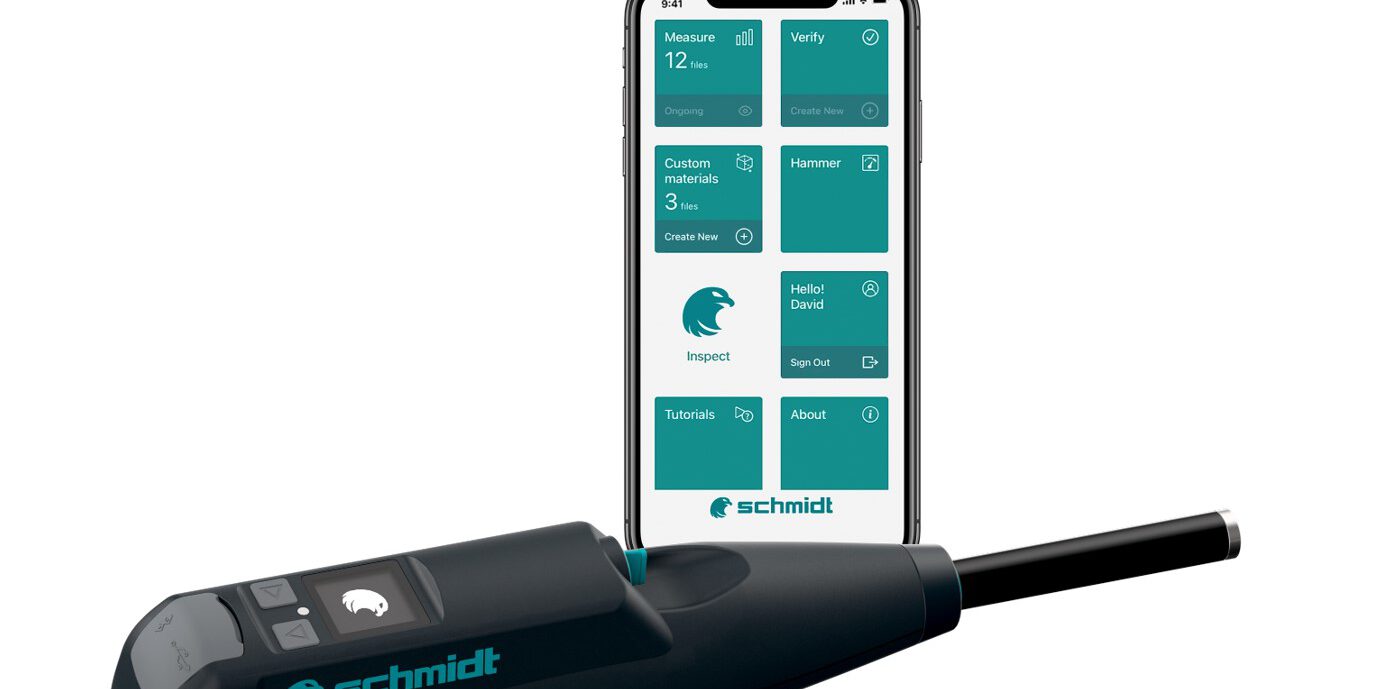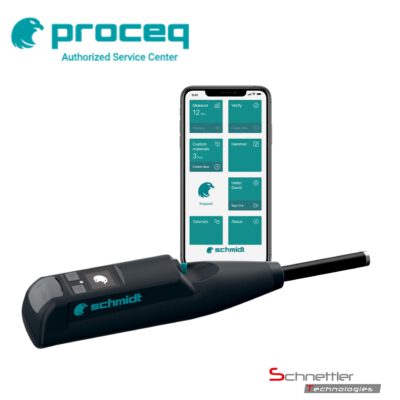 Proceq Paper Schmidt PS8000 – the newest edition of the legendary SchmidtHammer LR
Category: Roll Hardness Measuring, Paper, Cellulose, Carton
Manufacturer: Proceq
Proceq Paper Schmidt (successor to Schmidt Hammer LR) | The first rebound hammer to test the winding hardness for all materials on a roll (paper roll, etc.). Robust & incredibly accurate!
Usage:
Hardness testers for all kinds of web goods (rolls or sheets): Foil and paper rolls (large, medium and small paper rolls) / leather / coated rolls / lottery tickets / handkerchiefs
Versions:
Can be ordered as standard or optionally with Bluetooth thermal printer.
What distinguishes the new SchmidtHammer?
Advantages & Features of the Proceq PaperSchmidt PS8000
The Paper Schmidt is the first rebound hammer that is used specifically to test the winding hardness of film and paper rolls. A new measuring principle and an extremely flexible firing pin enable previously unachieved accuracy and repeatability when determining the roll profile. The robust design of the Paper Schmidt ensures a longer service life of the device under the difficult operating conditions in the paper industry.
Special functions such as predefined tolerances simplify the interpretation of the measurement results significantly.
Particularities:
The device has an extremely flexible firing pin and works according to a revolutionary measuring principle that is independent of the angle of impact. This makes the Paper Schmidt the leading device in its class when it comes to testing roll profiles.
The paper roll profile is immediately shown on the integrated display.
The user interface is extremely intuitive and at the same time language-independent.
The device automatically calculates the average hardness of the paper roll, the span and the standard deviation.
In addition, maximum and minimum values ​​can be set in PaperSchmidt. Exceeding or falling below these preset values ​​is displayed immediately.
The PaperSchmidt is characterized by a high-quality, robust design. A sealing system and specially treated firing pins increase the life of the device significantly compared to other rebound hammers. At the same time, this reduces maintenance costs in industries where the device is used intensively.
The device is easy to program for individual user requirements.
Scope of application:
paper industry
Foils, foils and other plastic webs
Applied standards
TAPPI T 834
Mobile App:
Proceq Paper Schmidt App
App Display:
Any compatible Apple® iOS device (iOS 12
and later)
App Workflow Features
Voice read-out of each impact (only on iOS®)
Logbook with geolocation, audio, image and text annotations
Series statistics
Generate roll profiles
ID Barcode and QR code scanner
Set min/max values
Single series reporting: CSV
App Verification Features
Software-assisted verification on an anvil
PC Software
Paperlink 2 software runs on Windows 7 or newer
PC Workflow features
Download and manage roll data
Instant view on measurement data span
Set up and change min/max limits
Display statistics
Insert measurement comments
Export data to CSV file
Export PNG images
Measurement
Roll profile measurement (series of rebound value)
Technology
Optical Rebound Velocity Quotient
Key Features
Impact angle independent
Displays the impacts on-screen as you work
Set min/max values
Connect to PC, mobile app and portable printer
Impact Energy
0.735 Nm
Memory
Instrument memory > 20'000 impacts
Display
Analog & backlit digital (100 x 100 pixels,
graphic)
Connectivity
Bluetooth® LE, USB for charging, updates
and wired data transfer to PC
Standards compliance
TAPPI T834
TAPPI TIP 1004-01
Present
You have any questions towards this product?
Then call us, write us an email or you can use our callback-Service-formular at the footer of the page. We are looking forward to hear from you and we will give a good consultation.