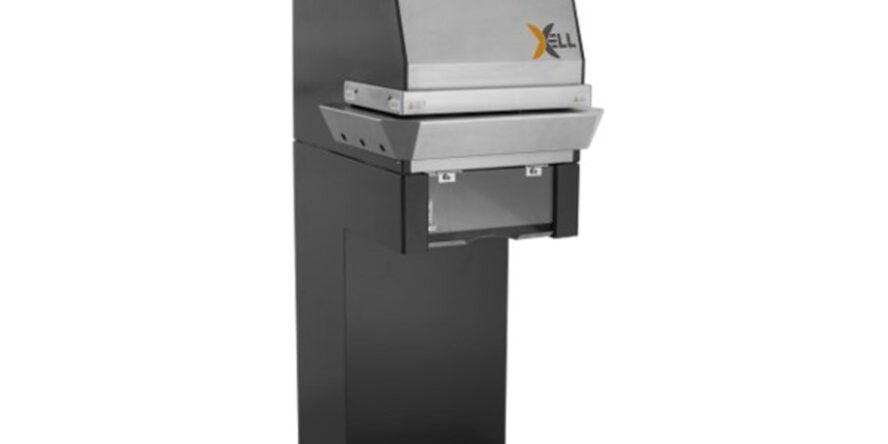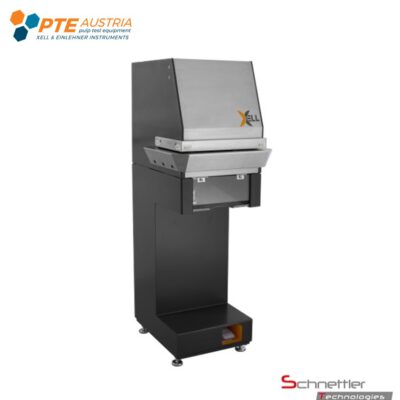 Pneumatic Sample Punch "A4"
Manufacturer: PTE-Pulp Test Equipment GmbH
(formerly manufactured and sold by Xell GmbH)
Usage:
For the preparation of A4 (210 x 297 mm) or other big dimen –
sion samples.
Device Description:
Sturdy floor mounted punch for punching out A-4 size samples through pneumatic operation. A top working tool in A4 format is pushed through a dye. By punching the top tool through the base, the samples are cut. After punching they fall down into the sample collection tray and can easily be taken out. Security protection switches and guides do not allow to operate the punch without closing the safety switches. The punch and dye tools are designed to cut the material like scissors (starting to go through the material from the edges to the middle).
Test Description:
The sample to be tested is placed between the security protection and the stainless steel guide. By pushing the foot pedal the sample is cut and falls into the sample collecting tray. A security cover protects the user. If this acrylic cover is opened, a security switch stops the machine. The machine is designed for pulp sheets, but also for any kind of paper, board or similar materials.
Connection:
8 mm diameter pneumatic tube for compressed air connection (8 bar/800 kPa).
You have any questions towards this product?
Then call us, write us an email or you can use our callback-Service-formular at the footer of the page. We are looking forward to hear from you and we will give a good consultation.