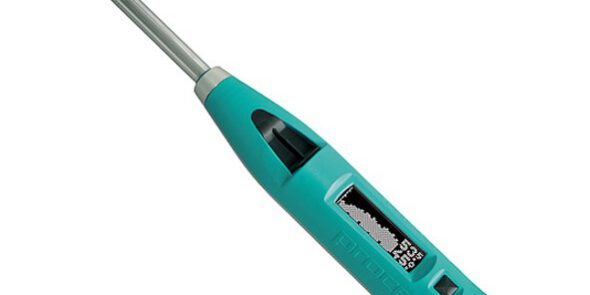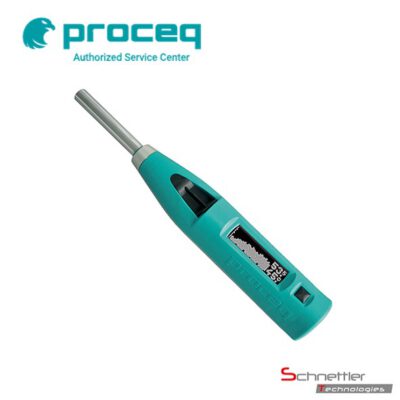 Proceq PaperSchmidt
Category: Roll Hardness Testers, Paper, Cardboard, Pasteboard
Manufacturer: Proceq
Proceq PaperSchmidt (successor of the Schmidt Hammer) | The first rebound hammer to test the winding hardness of paper rolls. Robust & incredibly accurate!
Usage:
The PaperSchmidt is the first integrated rebound hammer designed specifically for the testing of roll profiles. It features high accuracy and repeatability and delivers instantly all key parameters required for assessing the roll quality. The PaperSchmidt has an extended lifetime to cope with the heavy demands of the paper industry.
What distinguishes the new SchmidtHammer?
Advantages & characteristics of the Proceq PaperSchmidt
The device has an extremely flexible firing pin and works according to a revolutionary measuring principle that is independent of the impact angle. That makes the PaperSchmidt the leading device in its class when it comes to checking roll profiles.
The paper roll profile is immediately shown on the integrated display.
The user interface is extremely intuitive and at the same time language-independent.
The device automatically calculates the average hardness of the paper roll, the span and the standard deviation.
In addition, maximum and minimum values ​​can be set in PaperSchmidt. Exceeding or falling below these preset values ​​is displayed immediately.
The PaperSchmidt is characterized by a high-quality, robust design. A sealing system and specially treated firing pins significantly increase the lifespan of the device compared to other rebound hammers. At the same time, this reduces maintenance costs in industries in which the device is used intensively.
The device can be easily programmed for the individual requirements of the user.
Scope of application:
Paper industry
Films, foils and other plastic sheets
Standards applied
You have any questions towards this product?
Then call us, write us an email or you can use our callback-Service-formular at the footer of the page. We are looking forward to hear from you and we will give a good consultation.