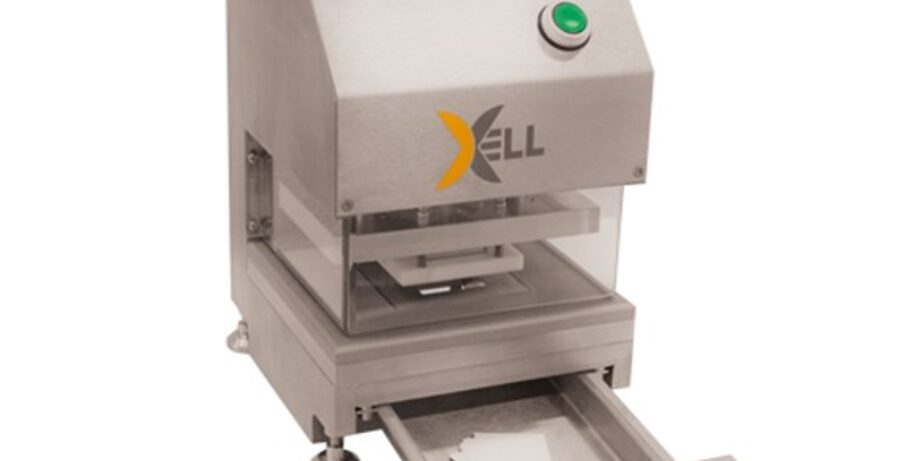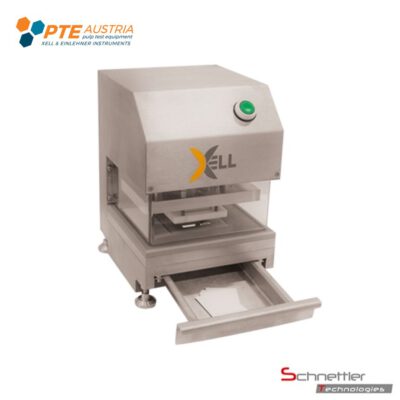 Sample Punch Pneumatic
Manufacturer: PTE-Pulp Test Equipment GmbH
(formerly manufactured and sold by Xell GmbH)
Overview:
For the preparation of paper or board samples acc. to required standard.
Device Description
Our Sample Punch Pneumatic is a sturdy punch pneumatically operated for easy and rapid preparation of square or circular test pieces. Either used for grammage determination or as sample preparation for bending/stiffness, Elmendorf tear or for twin folding tests. Grammage range from 30 up to 1000 g/m² and thickness up to max. 4 mm.
Procedure Description
The sample is placed between the punch knives through the slot in the safety cover. The sample piece is punched out pneumatically by using the button on top of the instrument.
The sample pieces fall into a sample piece collection tray, which is placed in the foot of the instrument. From there the samples can be taken out and used for several tests.
Connection
6 mm diameter pneumatic tube for compressed air connection (400–600 kPa)
Models
Code
according to
ISO
Sample Sizes
P 105.100
Elmendorf
ISO 1974
50 × 63mm
P 105.110
Elmendorf
ISO 1974
76 × 63mm
P 105.120
Elmendorf
TAPPI T414
53 × 63mm
P 105.130
Elmendorf
63 × 63mm
P 105.140
Bending Stiffness
ISO 2493
38 × 80mm
P 105.150
Bending Stiffness
TAPPI T556
38 × 76mm
P 105.160
Twin Folding
ISO 5626
100 × 15mm
P 105.170
Grammage tests
ISO 536
100 × 100 mm
Other sizes available. Call Us for further details!
You have any questions towards this product?
Then call us, write us an email or you can use our callback-Service-formular at the footer of the page. We are looking forward to hear from you and we will give a good consultation.