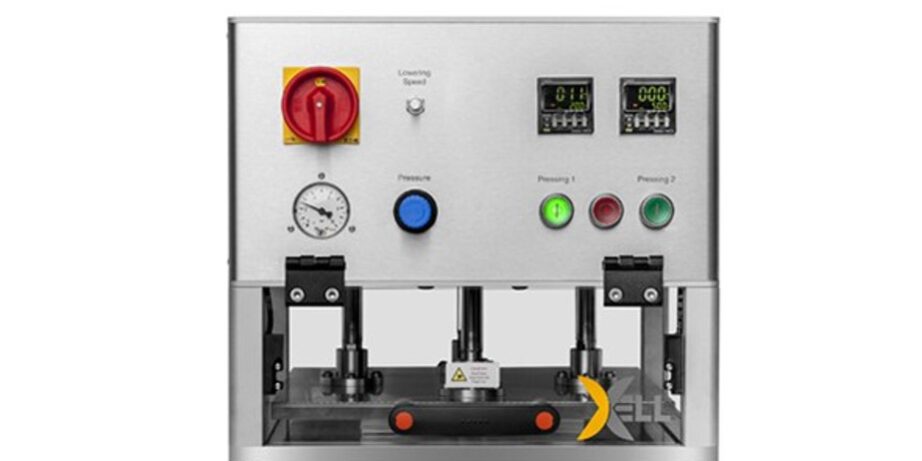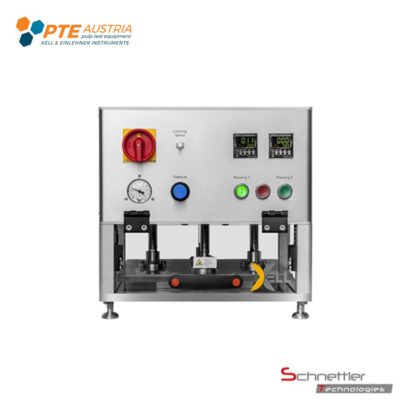 Sheet Press
Manufacturer: PTE-Pulp Test Equipment GmbH
(formerly manufactured and sold by Xell GmbH)
Usage:
For dewatering and pressing of hand sheets.
Device Description
The sheet press allows to dewater and press the hand sheets according the procedure required by the applicable standards for the preparation of laboratory sheets. The stable parallel pressing plates are moved by four pneumatic cylinders to guarantee the equal distribution of the pressure. The effluent water flow off through the drain gutter.The complete working unit is built in a housing to ensure safe and comfortable operating. The parameters pressure, pressing time and lowering speed are adjustable by the control module. Emergency stop switch is placed in operator's visual field.
Test Description
The stack consisting of one or several batches of dry blotter, couch blotter, laboratory sheet and drying plates is placed in the sheet press. For the first pressing the pressure is raised continuously and kept for 5 minutes upon the first increase in pressure is registered. After return to the home position the drying plates are removed. The second pressing is carried out without drying plates, the pressure is increased rapidly and maintained for 2 minutes. After the second pressing and return to the home position the stack is removed and ready for drying.
Specifications
– Four pressing cylinders for equal force distribution
– Pressure plate size 350 x 350 mm
– Maximum pressure height: 100 mm
– Highest quality and manufacturing
– Stainless steel housing and drainage parts
– Acrylic appliance door
– Clearly arranged manipulation buttons
– According to international standards
Shipment
– Sheet press
– Pneumatic hose
– Power cable
– Operating manual
Models
| Article code | Model |
| --- | --- |
| 10.104.100 | Sheet Press |
You have any questions towards this product?
Then call us, write us an email or you can use our callback-Service-formular at the footer of the page. We are looking forward to hear from you and we will give a good consultation.