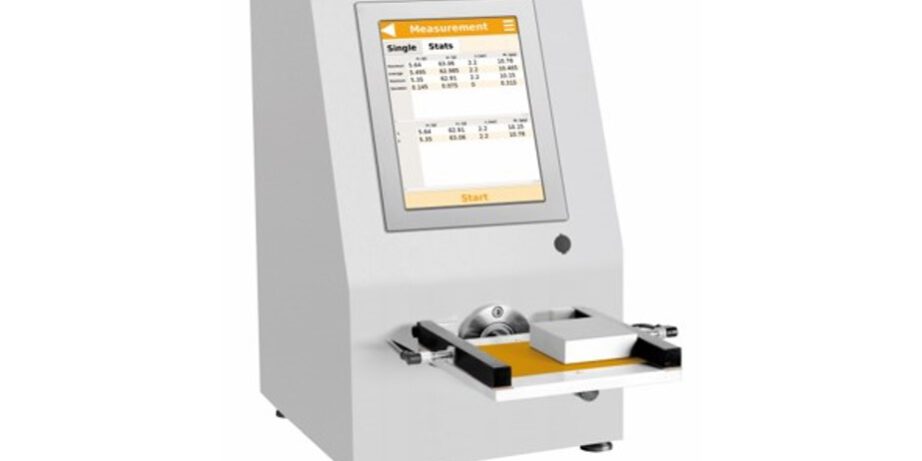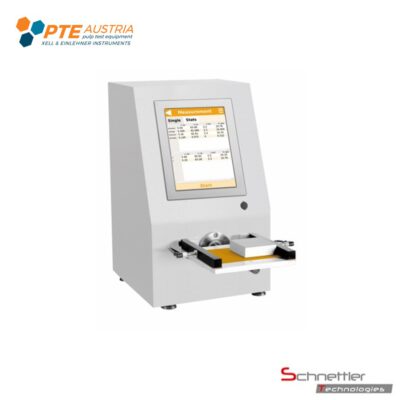 Static Friction Tester
Manufacturer: PTE-Pulp Test Equipment GmbH
(formerly manufactured and sold by Xell GmbH)
Overview
For measuring the static friction coefficient between 2 materials.
Device Description
The instrument consists of a frame with a moveable table. The quick clamping tool, mounted on the table allows to fix the test paper sample. A metal block on which lower side is glued another test paper is put on the sample. The metal block is fixed on the right side of the table and controlled by a sensor. When the table starts moving – the metal block starts to move on a specific angle. This angle is measured and displayed in the digital display of the instrument.
Test Description
The sample is clamped with the quick clamping tool on the moveable table. The metal block with the other paper on it is put on the sample. The test starts by pushing the start-button. The table moves slowly. Suddenly the metal block starts to move downwards. The instrument stop at this position and the angle is displayed.
Specifications
– Different metal blocks are available (see Optional)
– Standard block "A" with 2,0 x 4,0" / 750 g / 14,5 g/cm² (is delivered as standard)
Shipment
– Static Friction Tester with standard block "A"
– Connection cable
– Operation manual
Optional
– Block "B" with 3,5 x 4,0" / 1.260 g / 14,0 g/cm²
– Block "C" with 1,5 x 3,5" / 500 g / 14,76 g/cm²
– Block "D with 2,5 x 2,5" / 200 g / 4,96 g/cm²
– Special blocks customer specified
You have any questions towards this product?
Then call us, write us an email or you can use our callback-Service-formular at the footer of the page. We are looking forward to hear from you and we will give a good consultation.