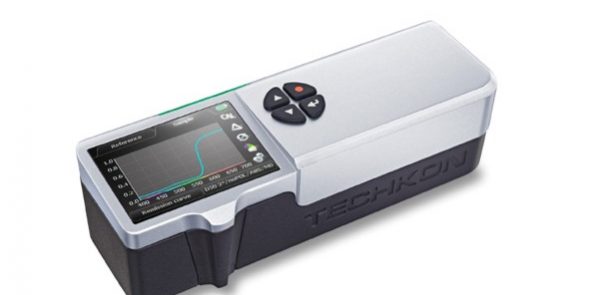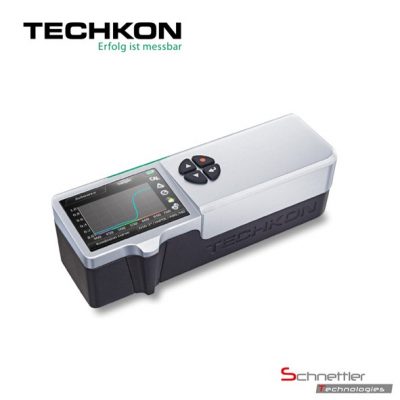 TECHKON SpectroDens
Manufacturer: TECHKON
Usage:
SpectroDens is your all-purpose, modern measurement device for every application from pre-press to print. Whether it be in pre-print for verifying proofs, for ongoing quality control at the printing press, during delivery inspection of paper and print products or in a color lab, SpectroDens is exceptionally suitable, no matter which application.
Avaiable Models:
Basic, Advanced and Premium
The device works strictly according to the standards valid for the Graphic Industry. It is particularly good at evaluating the Ugra/FOGRA-media wedge because it toggles between colorimetric measurement without polarization filter and density measurement with filter at the push of a button.
The supplied Windows-software TECHKON SpectroConnect provides the connection between SpectroDens and the PC via the micro-USB connector or via the optionally available WLAN module. Measurement data can thus be comfortably viewed and processed on the PC.

The highlights at a glance
High-resolution spectral engine

Direction-independant, ISO-compliant measuring head

Precisely CNC machined, solid aluminum unibody case

Fast single measurements and scan lengths up to 200 measurement patches
Wireless, inductive battery charging

Long-lasting battery for approx. 10000 measurements per charge

Intuitive operation and convenient handling

Micro-USB connector; WLAN module optionally

Memory for 25000 reference values
We supply SpectroDens in three types of performance packages: The model Basic with all density functions and the Advanced version which adds essential colorimetric
functions and a color library. The fully equipped flagship model SpectroDens Premium meets all demands with regard to quality control. All SpectroDens devices can also
be used for short scans and feature a brilliant color display. The LED technology provides measurement conditions M0, M1, M2, M3 according to ISO 13655. Optionally data
transmission by means of a WLAN module is possible. SpectroDens can be upgraded post-purchase by program upload to higher versions (charged service).
Measurement geometry: 0° : 45°
Optics: according to ISO 5-4
Spectral range: 400 to 700 nm in 10 nm steps, spectral resolution: 10 nm, pixel distance: sensor < 3 nm
Measurement aperture: 3 mm round standard; 1.5 mm round optional
Light source: LED, provides measurement conditions M0, M1, M2, M3 according to ISO 13655
Polarization filter: Twice linear crossed, switched on and off per button release
Measurement time: Approx. 1 sec. per measurement; max. 10 seconds in scan mode
White reference Absolute and relative; absolute white standard integrated in charging console
Illumination types: A, C, D50, D65, F 2/7/11
Standard observer: 2°, 10°
Density filter: DIN 16536, DIN 16536 NB, ISO/ANSI T, ISO/ANSI I, ISO E; spectral density Dmax
You have any questions towards this product?
Then call us, write us an email or you can use our callback-Service-formular at the footer of the page. We are looking forward to hear from you and we will give a good consultation.