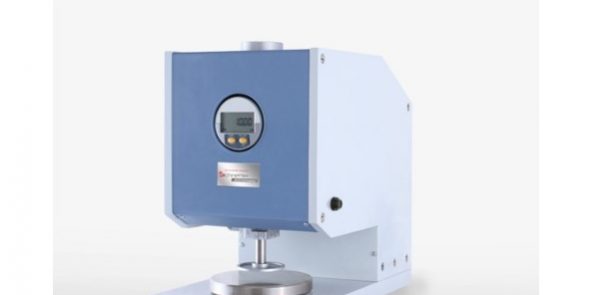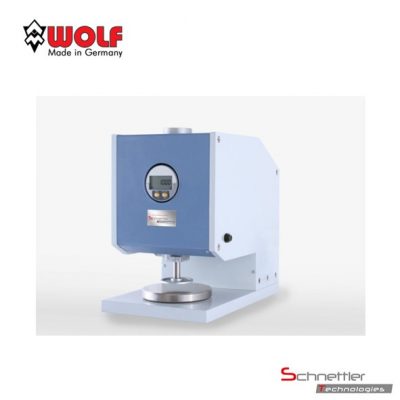 Thickness Gauging Apparatus DM 2005
Manufacturer: Wolf Messtechnik GmbH

Overview:
The 2000 Series thickness gauges have a sturdy and rigid base frame with encapsulated, separate measurement setup. The devices are the first choice if you value high accuracy (up to 0.001 mm), simple operation, automatic operation and objective, reproducible measurement results.
This alternative to the DM 2010 dispenses with the illuminated, menu-guided touchscreen with its statistical functions; instead, a dial gauge with seven-segment display and single keys is used. Of course there is a data output for the digital further processing of the measurement results. Likewise, the model DM 2005 can be offered with special equipment for measuring probe dwell time and measuring range preselection.
Specifications:
Seven segment display li>
Preselection of the measuring range: optional li>
Adjustable dwell time: optional li>
Motorized button movement li>
Connection for foot switch li>
Digital Interface li>
Available scaling: 0.001 mm, 0.01 mm li>
Possible measuring ranges: 0 – 10mm, 0 – 25mm, 0 – 50mm li>
length x width x height (with measuring range 0 – 10 mm): 300 x 210 x 300 mm li>
Weight with measuring range 0 – 10 mm: 23 kg li>
Lieferbare Modelle
Typ
Anwendung
Fühler Ø
Fühler
Prüfdruck
Norm
mm
cm²
D-2005-T
für Textilien
50,42
20
0.1 kPa und 1 kPa
DIN EN ISO 5084
D-2005-V
für normale Vliese
56,42
25
0.1 kPa und 0.5 kPa
DIN EN ISO 9073-2
D-2005-G1
für Geotextilien
56,42
25
2 kPa und 20 kPa
DIN EN ISO 964-1
( ohne 200 kPa )
D-2005-NW
für textile
56,42
25
0.5 kPa und 1 kPa
DIN EN ISO 53855
Flächengebilde
35,68
10
5 kPa
D-2005-P*
für Papier
16
2
100 kPa
DIN EN ISO 53105
D-2005-HY
für Hygienepapier
35,68
10
2 kPa
DIN EN ISO 12625-3
D-2005-L1
für Leder
10
0.785
50 kPa
DIN EN ISO 53326
(veraltet)
D-2005-L2
für Leder
10
0.785
49,1 kPa
DIN EN ISO 2589
D-2005-Gi
für Gummi
35,68
10
5 kPa
Fühler
Kalotte
D-2005-F*
für Folien
R 30 mm
0.5 N
DIN 53370

*Auflösung 0.001 mm ist Standard
You have any questions towards this product?
Then call us, write us an email or you can use our callback-Service-formular at the footer of the page. We are looking forward to hear from you and we will give a good consultation.