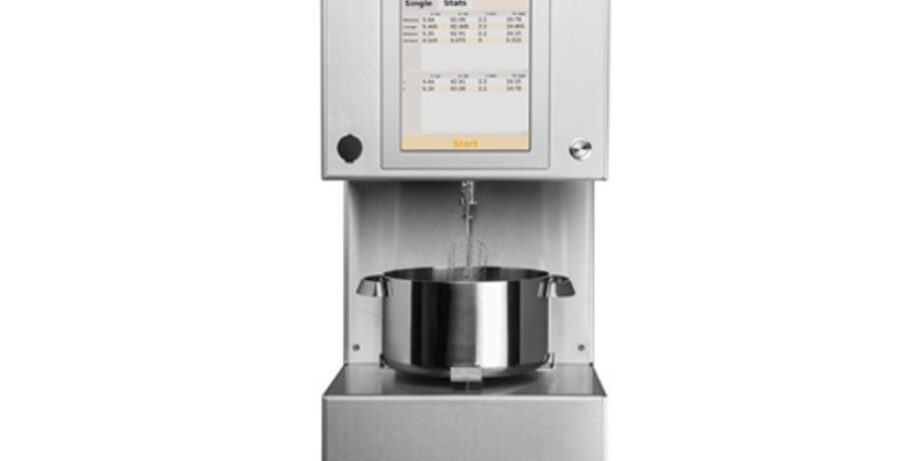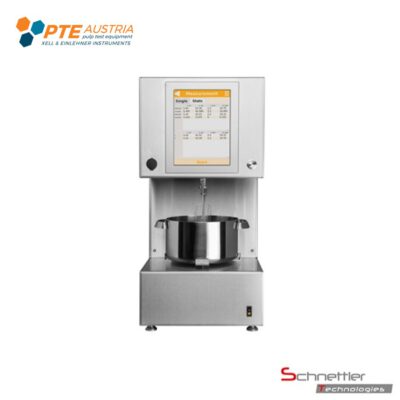 PTE Tissue Absorptionstester
Manufacturer: PTE-Pulp Test Equipment GmbH
(formerly manufactured and sold by Xell GmbH)
Overview
For the determination of water absorption & suction time.
Device Description
This high quality product is characterized by the simplicity of operation. Only premium stainless steel and aluminum parts are being used. The water pot has a capacity of max. 4 liter and is lifted pneumatically. Also the tilting of the standardized basket from 0° to 30° is done automatically according standard. The whole device is controlled by the touch screen. The load cell is built into the head of the device. The special developed clips allow the basket to sink force- and frictionless into the water by the weight of the paper only.
Test Description
One test piece is placed into the basket. By pushing the start button on the touch screen the device detects the dry weight of the test piece and the basket tilts from 30° to 0°. The water pot, filled with distilled water, is lifted and the basket with the sample in it touches the water. Due to the special mounting of the basket, the only weight that pushes the basket and the sample down is their own weight. As soon as the sample is sucked full with water, the watering button has to be pushed. Now the 30 seconds watering time starts to count down. After the watering time, the water pot gets lowered into its initial position and the basket gets tilt back to the 30° angle. Then the sample drains for 60 seconds. After the drainage time the device measures the weight of the wet test piece. The device displays all the values like empty weight, wet weight, gram water per gram tissue etc. as well as the suction time and drainage curve on the touch screen. The statistics are calculated automatically and get saved on the device. These values can be easily exported as an excel file via USB flash drive directly after the test or later by recalling the results in the saved history.
Specifications
Determination of water absorption in gram-water per gram-tissue
Extra feature: suction time of the sample is displayed in seconds.
Highest quality materials and manufacturing
Easy to use, single hand operation
Highest repeatability
10" Touch screen
Special developed force- & frictionless mounting of the basket
Water pot easy to change and refill
Tissue absorption basket according standard
Automatic calculation of statistics (max, min, average, standard deviation, etc.)
Excel export of single and statistic values via USB
Storage of values and graphs with statistic figures of the last 100 measurements
Recall possibility of the stored values
Shipment
Tissue Absorption Tester
– Connection cable
User manual
You have any questions towards this product?
Then call us, write us an email or you can use our callback-Service-formular at the footer of the page. We are looking forward to hear from you and we will give a good consultation.