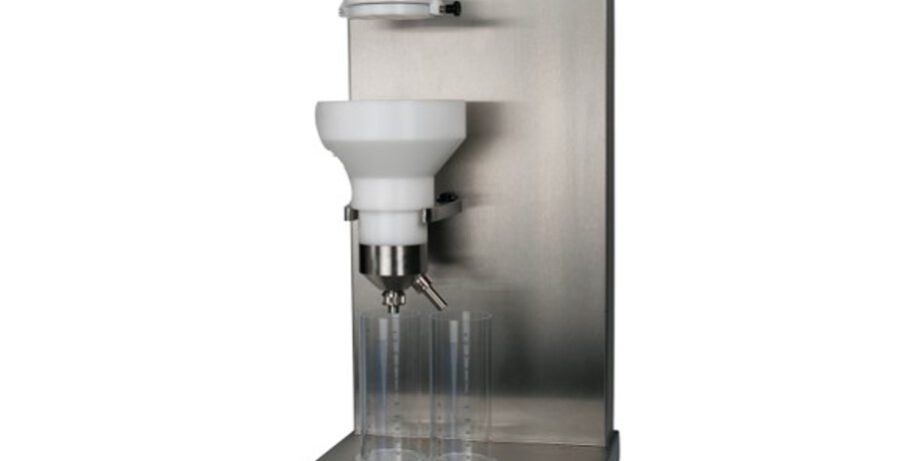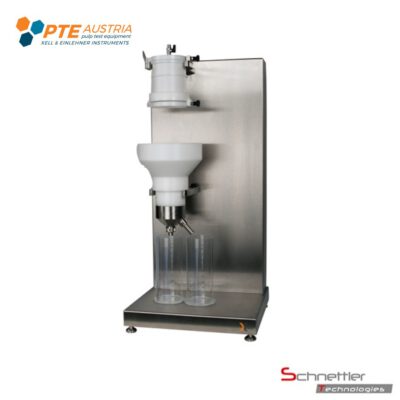 Canadian Freeness Tester – Manual
Manufacturer: PTE-Pulp Test Equipment GmbH
(formerly manufactured and sold by Xell GmbH)
Overview:
For measuring the freeness of pulp acc. to Canadian standard.
Device Description »Manual«:
The XELL Canadian Freeness Tester consists of a sturdy frame. Mounted on this frame is the 1 .000 ml cylinder with a special screen plate. Also mounted on the frame is a funnel, which guides the water from the upper cylinder into a beaker. The water splashes out of the cylinder into the funnel and into the two beakers where the actual values can be read in CSF degrees.
Test Description »manual«:
The sample is prepared acc. the standard and the suspension is filled into the upper cylinder, while the bottom lid is closed. The upper lid is closed. The lower lid is opened manually and only some drops are allowed to drop. Then the valve on the the upper lid is opened manually, air comes into the cylinder which allows the drainage to start. The water drains through the sieve and the pulp is held back on the sieve. The drained water is guided into the 2 measuring cylinders and visually examinated.
Specifications:
Manual start by opening a valve
Lightweight materials for better handling while cleaning
Stainless steel construction of the frame
You have any questions towards this product?
Then call us, write us an email or you can use our callback-Service-formular at the footer of the page. We are looking forward to hear from you and we will give a good consultation.