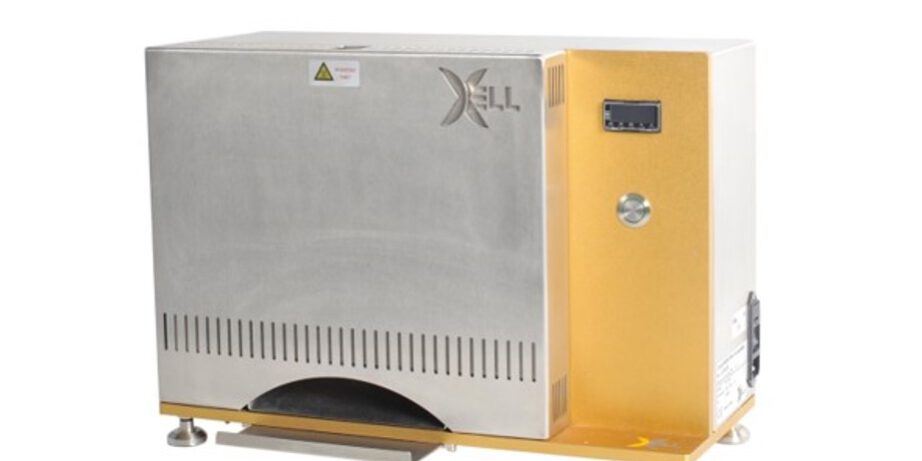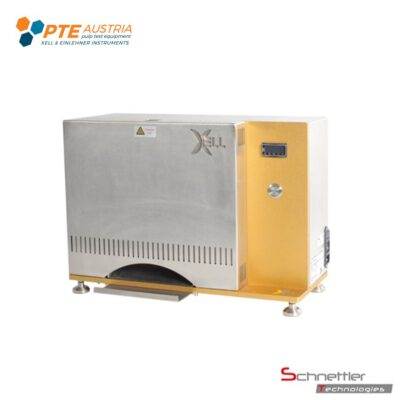 Concora Medium Fluter
Manufacturer: PTE-Pulp Test Equipment GmbH
(formerly manufactured and sold by Xell GmbH)
Overview
For sample preparation of fluting waves for CCT tests.
Device Description
The Concora Medium Fluter consists of two direct heated segments with 175 +/- 5°C, covered through a front plate and pressed against each other with definite force.. The segments are direct heated with only 200 W heating power (older models needs 2.000 W power consumption). The sample is put on the top and falls out ready from an opening in the lower area of the fluter. The sample is glued on a tape with help of a "3rd hand" and is then ready for testing in a crush tester.
Test Description
The sample is put into the opening on the top of the instrument. By pressing the START button the stripe with 6″ x ½" (152,4 x 12,7 mm) dimension is inserted into the machine and falls out ready formed on the lower part. The sample is then laid onto the opened "3rd hand", the holder is closed and the tape is glued onto the sample. This sample is now ready for testing.
Specifications
– Exact temperature distribution of the segments
– Temperature up to 200 °C adjustable
– Fast heating of the segments (approx. 10 – 15 min)
– Speed of segments 4.5 rpm
– Available wave types: A, B, C, D, E, F
Shipment
– Concora Mediium Fluter
– 3rd hand with stripping block
– Connection cable
– User manual
Models
| Article code | Model |
| --- | --- |
| 12.206.100 | Concora Medium Fluter with fix wave type »A« |
| 12.206.200 | Concora Medium Fluter with changeable waves |
You have any questions towards this product?
Then call us, write us an email or you can use our callback-Service-formular at the footer of the page. We are looking forward to hear from you and we will give a good consultation.